死ぬ.doc
— notepad
yobun
28.01
mail
imgs.zip
— notepad
CARDS.doc
— notepad
welcome to mario kart
i. INFORMATION ► ii. COLLECTION
PARTY DECK
Since I love collecting shit, I wondered if I could make a trading card, since there's no much tc around anymore. and i said, why the fuck not? then an idea of doing these party-cards-like-characters came to mind. so i wanted it to look like all of us are in a party like A CONGA LINE!!!!!!!!!!!!!!!!!!!
it's simple. First, email me with the info below to make your card, and then when you receive you can just add it into any page of your website and email others to trade. of course if any is interested in my rubbish LOL.
presentation will change overtime, and previous generation will never return. EVER!!!!!!! so grab yours until i disappear from this planet. hopefully i can be fast enough LOL. please beware i'm not as active as before, but you will get your card, pinky promise.
happy collecting!
FIRST GENERATION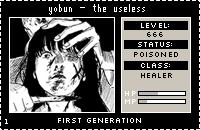 of course, if you don't want to choose all the colors, give me your destiny onto my hands. just fill the information section and clarify if you give me freedom with the colors.
*✞ fill up this form:
INFORMATION
title ; [name] — [title]
level:
status: (normal, exhausted, poisioned, muted... there are many to choose from, not only these! <3)
class:
HP ; full, more-half, half, less-half, little, none
MP ; full, more-half, half, less-half, little, none
Image ; pls don't send me dickpics or vaginapics

COLORS

background color:
info background color:
hp&mp color:
font color:
Border color: